#FFFFFF
Colorado Provider Telehealth Survey
The Office of eHealth Innovation and Prime Health have released the 2022 Colorado Provider Telehealth Survey to follow up on telehealth usage, benefit, and challenges for patients and providers to inform future decision making in support of equitable statewide telehealth access, adoption and sustainability. We need your help in getting the word out to healthcare professionals about this opportunity to provide feedback on what support is needed to make telehealth more accessible and effective.
This survey builds upon the 2021 Colorado Provider Telehealth Survey, to which 1,357 Colorado healthcare professionals responded last year (find results from that survey here). 
The 2022 Colorado Provider Telehealth Survey can be accessed through this link. The survey is expected to take 15-20 minutes to complete, and all aggregate data collected from this survey will be shared freely and publicly, while individual responses will be kept private and confidential.  
Three participants will be selected at random to receive a $100 gift card. To be eligible, respondents simply provide their email at the end of the survey. Responses are due by October 15, 2022. 

If you have any questions about the current survey, please reach out to Daniel Smith daniel@primehealthco.com.
#FFFFFF
Upcoming Events
eHealth Commission Monthly Meeting
Public Comment: Please use this form to provide any public comment for consideration during the upcoming eHealth Commission meeting. Please submit all comments 24-hours prior to the upcoming meeting on August 8th.
Click here to sign up for communications on upcoming meetings.
Meeting Details
Time: 12:00 pm - 2:00 pm
Location: This meeting will be web-conference only and 1 hour.
When: Aug 10, 2022 11:00 AM Mountain Time (US and Canada)
Please click the link below to join the webinar:
https://us02web.zoom.us/j/84361797953?
Passcode: ehealth
Or One tap mobile : 
 US: +16699006833,,84361797953#  or +12532158782,,84361797953# 

    International numbers available: https://us02web.zoom.us/u/kpVK0AmOT
Save the Date!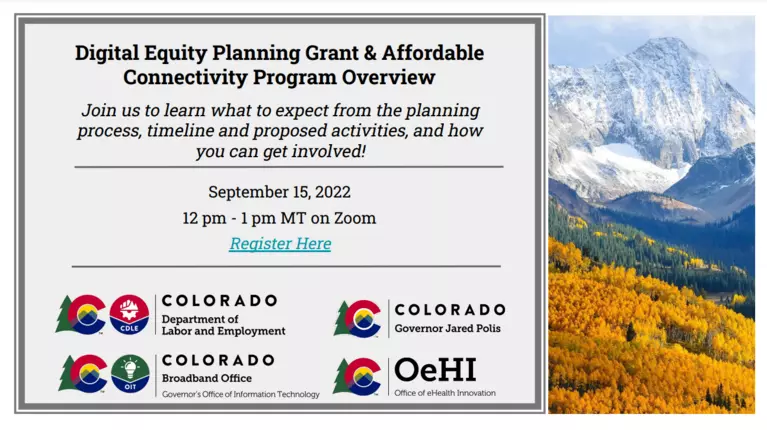 #FFFFFF
What's New
Colorado's 2021 Health Information Technology Roadmap
The Office of eHealth Innovation and eHealth Commission, in partnership with the Colorado Health Institute, released the  2021 Colorado Health Information Technology (IT) Roadmap on November 29th. The 2021 Roadmap was approved by the Offices of the Governor and Lt. Governor, as well as the eHealth Commission, and will serve as Colorado's North Star- Health IT strategy, charting a path for harnessing and expanding the digital tools and services needed to advance affordability, access, and equity in health care. The Roadmap details various strategies and recommendations for policies, technology services, and funding needed to accomplish these goals by 2024.
Thank you to all participating stakeholders, Commissioners, and public and private partners for your ongoing insight and input throughout this process. Your engagement was imperative in assessing current and future needs in policy, funding, and technology, and we appreciate your ample feedback on strategies for sustaining these efforts in the future. Community engagement activities included more than 50 stakeholder meetings; virtual regional learning collaborative telemedicine meetings; community meetings in Haxtun and Trinidad; two virtual listening sessions open to the public; an online survey; and the Annual Innovation Summit in September 2021. We look forward to working with all of you to accomplish these BOLD goals. 

Download the full 2021 Health IT Roadmap here
Executive Summary in English here
Executive Summary in Spanish here
Governor's Office Press Release here
 
#FFFFFF
Affordable Connectivity Program 
New long-term benefit will help to lower the cost of broadband service for eligible households
The Centers for Medicare & Medicaid Services (CMS) is working to help build awareness about the Affordable Connectivity Program, a Federal Communications Commission (FCC) program.  The new long-term benefit will help to lower the cost of broadband service for eligible households struggling to afford internet service.
The Affordable Connectivity Program provides:
Up to $30/month discount for broadband service;

Up to $75/month discount for households on qualifying Tribal lands; and

A one-time discount of up to $100 for a laptop, desktop computer, or tablet purchased through a participating provider if the household contributes more than $10 but less than $50 toward the purchase price.
The Affordable Connectivity Program is limited to one monthly service discount and one device discount per household.
Who is Eligible?
A household is eligible for the Affordable Connectivity Program if the household income is at or below 200% of the Federal Poverty Guidelines, or if a member of the household meets at least one of the criteria outlined at https://www.fcc.gov/acp.
Two-Steps to Enroll
Go to ACPBenefit.org to submit an application or print out a mail-in application; and

Contact your preferred participating provider to select a plan and have the discount applied to your bill.
Some providers may have an alternative application that they will ask you to complete.
Eligible households must both apply for the program and contact a participating provider to select a service plan. 
For more information and full details, visit https://www.fcc.gov/acp or call 877-384-2575.
Check out the Consumer Outreach Toolkit at https://www.affordableconnectivity.gov/community-resources/
Read more about the ACP in the recent White House Fact Sheet: https://www.whitehouse.gov/briefing-room/statements-releases/2022/05/09/fact-sheet-president-biden-and-vice-president-harris-reduce-high-speed-internet-costs-for-millions-of-americans/
#FFFFFF
Public OeHI & eHealth Commission Calendar
#FFFFFF
Colorado Vaccination Resources
https://covid19.colorado.gov/vaccine

: Colorado's COVID-19 vaccination website that provides information on

how/where you can get a vaccine

; background information on the vaccines; and

vaccine FAQs

For information in Spanish, visit

this page

.

Para obtener información en espa

ñol,

visite

esta página

.

Colorado's COVID-19 vaccine hotline

is 1-877-CO VAX CO (1-877-268-2926). It is available 24 hours a day, 7 days a week in multiple languages.

To opt-in to receive the latest COVID-19 vaccine information, people can text "vaccine" for English or "vacuna" for Spanish to 1-855-355-4566.

Para optar por recibir la información más reciente sobre la vacuna COVID-19, las personas pueden enviar un mensaje de texto con "vacuna" en español al 1-855-355-4566.

Power the Comeback, an integrated marketing campaign to inform and educate Coloradans about the various COVID-19 vaccines has a

social media toolkit

including graphics and sample posts to encourage our communities to get vaccinated.
#FFFFFF
Additional OeHI Resources
State Health IT Architecture Map
OeHI recently initiated the effort to map the infrastructure of the various health IT systems in the state and the relationships to each other.  The latest version of the map is available here. Please note that this is an ongoing effort with continual revisioning.
Check out our ongoing eHealth commission workgroups, learn about each group and find out the next workgroup meeting.
Sign up for OeHI Communications
To learn more about OeHI's efforts and receive our quarterly newsletter, please click here.