The revamped and refreshed Colorado Health Information Technology (IT) Roadmap was approved by the Governor and Lt. Governor's Offices in November 2021, and unanimously approved by the eHealth Commission on October 13, 2021. 
The 2021 Health IT Roadmap charts a path for harnessing and expanding the digital tools and services that support the health of all Coloradans. Known as health information technology (IT), these tools have the potential to significantly expand affordability, access, and equity in health care. This Roadmap sets a course for aligning efforts across a broad range of stakeholders to achieve three primary goals by 2024. 
The 2021 Roadmap recommends needed policy, technology, and funding solutions to achieve these three goals and defines a vision for transforming the state's current patchwork infrastructure into a more cohesive and integrated system that enables inclusion and equitable access to data and information that can better serve all Coloradans. It builds on the successes achieved in Colorado's 2019 Health IT Roadmap as well as the work currently underway.
Roadmap efforts will be stewarded over the next three years by the Office of eHealth Innovation, the eHealth Commission, state and local agencies, and community partners. Common values will guide the development, prioritization, and implementation of necessary strategies to achieve the three goals.
Thank you to the eHealth Commission and all stakeholders for your input and guidance in creating this Roadmap; without your insight and support, this project would not have been possible.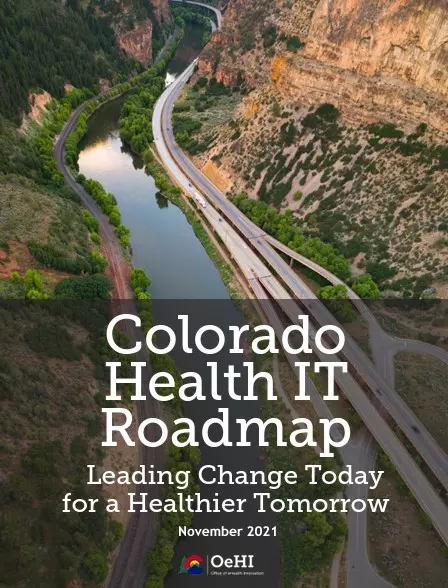 Colorado's 2019 Health IT Roadmap's goals were to support Colorado's vision of better care, lower costs, and improved health for all Coloradans. The 2019 roadmap can be found here.

For the refresh of Colorado's Health IT Roadmap, OeHI, with the guidance of the eHealth Commission and the support of the Colorado Health Institute (CHI), engaged with various public and private partners and stakeholders to ensure all perspectives and insights were accounted for, in an inclusive process. Stakeholder engagement was imperative in assessing current and future needs in policy, funding, and technology. Community engagement activities included more than 50 stakeholder meetings; virtual regional learning collaborative telemedicine meetings; community meetings in Haxtun and Trinidad; two virtual listening sessions open to the public; an online survey; and the Annual Innovation Summit with Prime Health in September 2021. Without ample participation and community engagement, this roadmap would not have come to be. 
The eHealth Commission serves as the steering committee for the project. Their purpose is to provide advice and counsel to help steer the Colorado Health IT Roadmap project to success.
Responsibilities include:
Provide insight and guidance into shaping Colorado's future Health IT/HIE environment

Bring perspectives to the project

Ensure that key challenges and issues are addressed

Identify opportunities that should be considered

Offer guidance to ensure the results provide a solid statewide Health IT/HIE Roadmap

Review the final draft of the Roadmap for completeness and reasonableness

Publicly support the project