#FFFFFF
Working Together Towards Whole Person Health
We believe in the transformative power of connection – that integrated, interactive, and interpersonal exchanges of information are the bridge to whole-person health in Colorado.
#FFFFFF
SHIE Status
SHIE Invitation to Negotiate - ITN UHAA 2023000004
After many months of negotiations for our Social Health Information Exchange ITN, we are excited to partner with Resultant to develop a scalable, adaptable, and sustainable statewide SHIE architecture.
Resultant is a people-first technology consulting company with a long history of collaborating with state agencies to deliver large, complex data solutions.
Work will begin on this contract following federal approval. More details coming soon!
We look forward to continuing great partnerships to improve whole-person health across Colorado!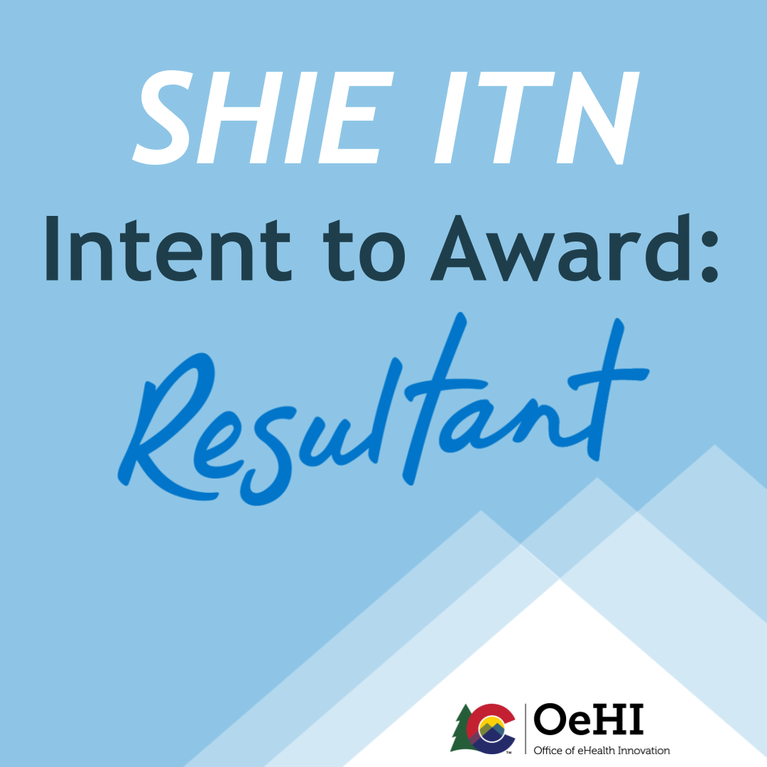 The SHIE Bulletin is a regular email newsletter from OeHI with updates, resources, and exciting news about Social Health Information Exchange. Join our mailing list today to stay in the loop on all the latest and greatest SHIE information:

Subscribe to The SHIE Bulletin

View Previous SHIE Bulletin Editions:
#FFFFFF
Our SHIE Values
Accessibility: Making the resources that best meet an individual's specific needs available, attainable, and equitable

Connectivity: Actively seeking new paths for individuals, information, and insights to form dynamic relationships

Effectiveness: Prioritizing efforts that advance people towards their intended outcomes

Humanity: Having empathy and showing respect for each person's unique lived experience

Inclusivity: Showing up for and purposefully involving everyone working towards whole-person health in the ways that matter to them

Reliability: Taking great care to consistently align our words and our actions to earn trust
#FFFFFF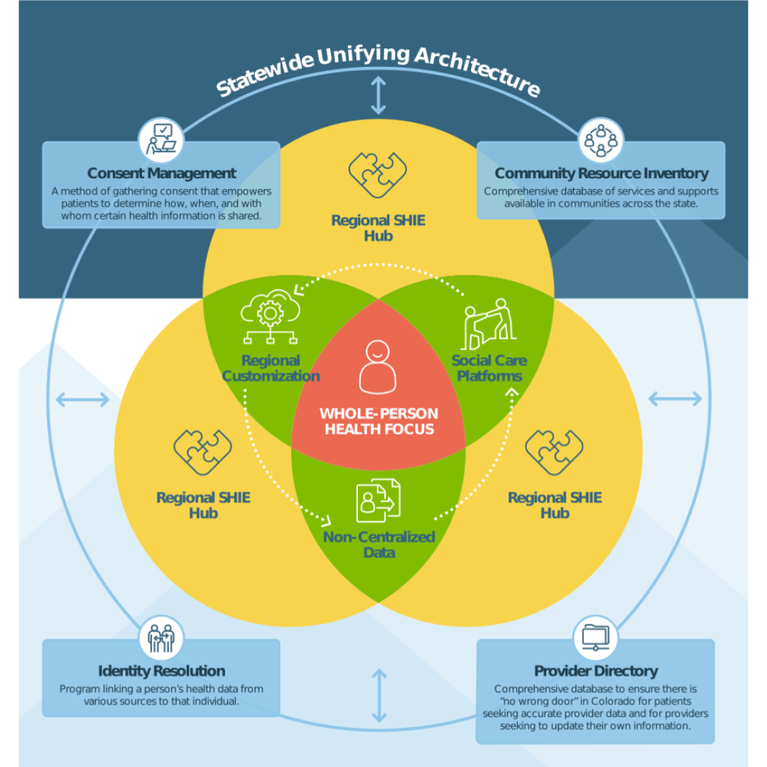 What is SHIE? 
SHIE is a network to securely share physical, behavioral, and social health information between providers involved in whole-person care. Our SHIE approach is composed of both a statewide unifying architecture and regional hubs. 

The statewide unifying architecture is the secure overarching network that will allow for the sharing of health information between providers. 

The regional SHIE hubs are built upon existing work across Colorado. We will fund regional infrastructure and partnerships that are customizable to the priorities of the region. While some SHIE hubs may focus on substance use disorder, others may focus on homelessness. 

Other important aspects of a successful SHIE include:
#FFFFFF
How will SHIE work? 
SHIE will be for people in Colorado who face barriers when navigating physical, behavioral, and social health care.

SHIE will be a network of social health data, insights, and resources that helps all people understand and access the best path to positive health outcomes.

SHIE will transform how Coloradans receive access to affordable, quality healthcare through the power of connection.

SHIE Connects the Dots, Removes Barriers, and Centers Whole Person Health.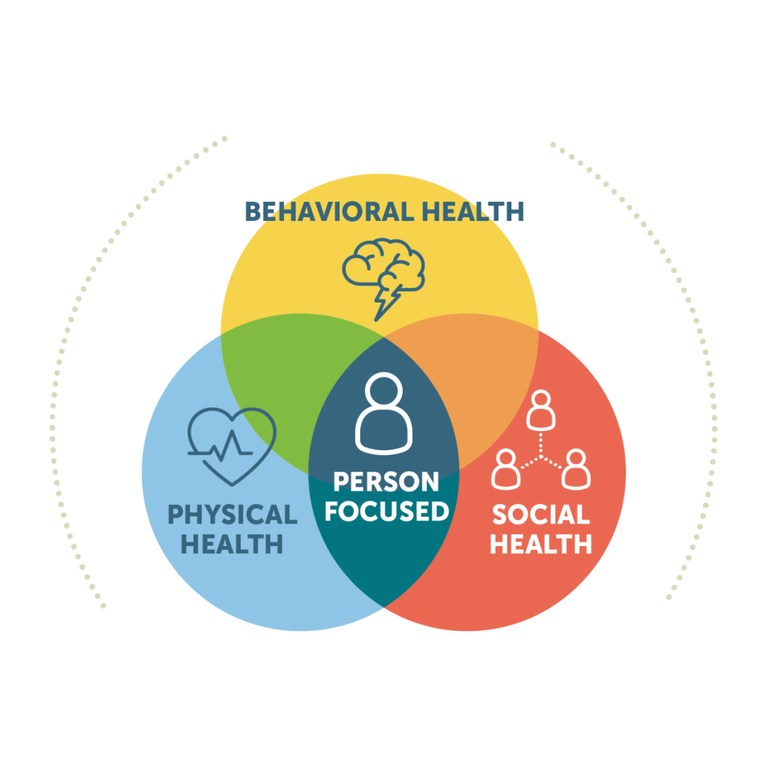 Diving Deeper
In order to illustrate how SHIE can help enable more effective care coordination, we have developed two personas of fictional people in Colorado who are accessing coordinated care services through SHIE. These user journeys will be expanded upon as SHIE is developed and implemented. 

These journeys illustrate just two potential ways in which SHIE can enable more effective care coordination, but the possibilities are extensive. In order to represent more SHIE journeys, we want to create and map out the journeys of additional user personas. If you have an idea for a population or service that you would like to see represented here, please email gov_ask_oehi@state.co.us. 
 
Meet Adrian and his daughter, Lucia!
 Adrian is a 35 year old Latino male who is currently living in Pueblo, CO with his husband and his 8 year old daughter, Lucia. Lucia is enrolled in Home and Community Based Services (HCBS) due to an intellectual disability that requires long-term support services. Adrian is enrolled in Medicaid and is diagnosed with depression and multiple chronic health conditions. His family experiences food and transportation insecurity. Data privacy and security is very important to Adrian.

Learn More About Adrian's Journey
Meet Vanessa!
 Vanessa is a 42 year old white female who lives in Fort Collins, CO with a roommate with whom she also shares a laptop. She is enrolled in Medicaid, she has been diagnosed with depression and substance use disorder (SUD), and she recently lost her job, so she is struggling financially. In addition to food insecurity and a lack of reliable Internet access, Vanessa does not like or regularly use technology, which makes finding resources online challenging. She also does not want information about her SUD to be shared with anyone outside of her SUD care team. 

Learn More About Vanessa's Journey